London is regarded as a global educational centre as it is home to a large number of internationally acclaimed colleges and universities. But higher education isn't the only thing that the British capital has to offer to people seeking good tutoring as the city is the location of numerous prominent secondary schools which have pupils from all over the world.
London Oratory School
Founded in 1863 by The Fathers of The London Oratory, this secondary school is one of England's oldest state-funded boys' only educational facilities. It is located in the district of Chelsea, one of the city's most famous and opulent areas. The school is highly acclaimed for its musical programme. Some of the most famous Oratorians are Simon Callow, Brian Duffy, Alan Mowbray, Michael Swift, John Kearns, Peter Egan and more. The school becomes coeducation in its sixth form and presently has a student body of about 1.350 pupils.
Highbury Fields School
This community secondary school for girls is situated in the area of Highbury in close proximity to Highbury Fields, the largest parkland in the Borough of Islington. It specialises in Science and Mathematics and is classified as a Leading Edge Partnership educational facility. Among its more notable alumni are:
Michelle Collins
Andrea Levy
Mary Kerridge
Sandy Ratcliff
Edith Clara Batho
Jane Peel
Simbi Ajikawo better known as Little Simz
Cardinal Vaughan Memorial School
The Cardinal Vaughan Memorial School is more commonly known as The Vaughan. It was established in 1914 and is presently the leading Catholic public educational facility in the district of Holland Park. It is a boys' only school which becomes coeducational during its sixth form. It has a prominent choral and instrumental music programme. Many graduates from the Vaughan pursue their education in some of the world's finest universities, including Cambridge and Oxford. Graduates are known as Old Vaughanians and some of the more popular are Matt Bishop, Roger Delgado, Maurice Edelston, Kevin Gallen, Richard Greene, Gerard Lyons and more. Currently the school has 950 students from the ages of 11 to 18.
George Green's School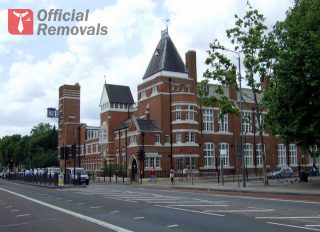 Situated in Cubitt Town in the Borough of Tower Hamlets, George Green's School was founded during the 19th century by the noticeable shipbuilder and shipwright, George Green. Since then it has had a strong maritime connection which is why it is supported by the Worshipful Company of Shipwrights. Classified as a coeducational institution, the presence of the school has motivate many businesspersons to relocate their business to the area via the reliable office moving services in Cubitt Town of Official Removals as it allows them to handle their affairs while being able to easily drop off and pick up their children from classes.
The Latymer School
The Latymer School is a selective coeducational secondary school in the district of Edmonton. It is one of the oldest educational facilities in London as it dates back to 1624. It is currently one of the finest schools of its kind in the United Kingdom and has an estimate of 1.400 pupils. Its present headmaster is Maureen Cobbett.
---