lPacking is an integral part of every removal project. Well packed items mean well protected items so it is well worth it to invest some time and effort in adequate packing of valuable objects. Having said this, not all people have the time or patience to deal with such tricky and time consuming chores. Not to worry though as we offer a specialised packing service in London as part of every removal. Of course, packing is also available as a separate service at a very reasonable price.
Don't skip on packing
Many people are tempted to skip this important step in the removal preparations in order to save time and effort, however we advise against that because good packing will definitely provide more protection for valuable goods during handling and transportation. Packing also helps keep things in order – packed items can be labelled, numbered or colour coded for easy tracking, distribution upon delivery and unpacking in respective rooms/areas of the property. Good packing also means quick and efficient loading and unloading of items on and off our removal vehicles.
Specialised packing provided by us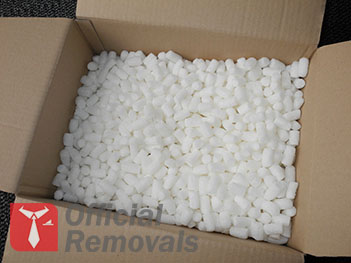 In order to save people the hassle of having to do their own packing when moving in London, we can do it for them at a very reasonable price. Our removal technicians are well trained and experienced in all aspects of professional removals, including packing and securing of items. They can quickly and effectively pack together small bits and pieces as well as large/bulky/odd items like standalone furniture, appliances etc.
For packing our London customer's items we use only

high durability, industry grade materials

;
We keep stock of many different packing and wrapping supplies;
Method of packing will correspond to dimensions and weight of the object;
Packing of items

can take place on removal day, or in advance

;
Please be advised that some items may take longer to pack due to their weight, dimensions or other specific characteristics, so give sufficient time for our technicians to do the best possible job. The packing service we offer to clients in London provides good value for money and much needed peace of mind. For a relatively little money customers ensure full protection of their belongings from bumps and grinds during handling and transportation.
Alternatively customers can do their own packing. If that's the case we are able to deliver a full kit of packing/wrapping materials, and the necessary size and number of removal boxes straight to their doorstep at a very reasonable price. Please inform us in advance of the amount and type of packing supplies and boxes you require.
The British capital has been a favourite filming location for many cinema directors. In the last decade or so, London has really stolen the show as one of the most desirable filming locations for the biggest blockbusters of recent years. Perhaps the first truly popular film to be shot in London was A Clockwork Orange. The most recent reel to be filmed there was the 24th 007 film Spectre. So far London, as a shooting location, has clocked in 14 000 hours of movie making.