Moving houses is always hard, but when it comes to overseas moves from London, things get a lot more complicated. That is why you need a removal company in London that you can count on a hundred percent to arrange for all the details of your relocation to be taken care of in a proper manner. Naturally, this is exactly the place that we step in and take care of business.
Overseas relocations without hassle
Your international removal is going to be managed by a team of fully licensed movers and moving helpers who have long years of experience in performing removal services from London of various scale. They will use their knowledge and skills to handle the specs of the project that are part of any relocation, such as:
Our movers will take care of everything for you
Additionally you can count on Official Removals London to carry out the tasks that make overseas moving so specific, including booking a ferry, taking care of documents, insurance and customs papers etc. Our team consists of some of the best professional movers in London. They will be in a position to offer you some pretty useful moving tips that are going to be very useful to you in the process of planning and carrying out your household move.
Packing solutions for your international removal
Quite naturally, one of the most important aspects of your project is going to be the packing – especially considering the fact that we are talking about a truly long-distance move. That is why it would be better if you leave it to our specialists to handle the job for you. We will use crates and removal boxes that are very durable, and use tested methods to secure your goods for the road. Leaving the packing to us is the wise thing to do in your situation.
Official Removals will help you move to any place in the world
Over the 7 years since we have been in the business we have handled international moves from London to nearly all destinations on the map. Get in touch with us if you want us to help you move to:
Spain
France
USA
Canada
Australia
New Zealand
Ireland
Any country in the EU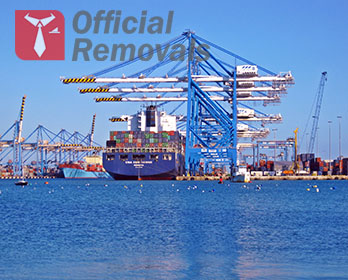 We will arrange your project according to the specs that come with your final destination. You can count on us on a hundred percent.
We are based and operating in London. Our capital is the largest city in the UK and a financial centre of a global scale. The City and Canary Wharf alone have an annual turnover that is bigger than any other place on the map. London is also a very busy tourist destination with nearly 20 million annual visits to attractions such as Buckingham Palace, The London Eye, The British Museum etc. The Heathrow International Airport and the other airports in the London network make London the busiest air-fare hub on the planet too.