Moving an educational facility from one site to another can be laborious, time consuming and costly, especially if the job is being executed without adequate organisation and equipment. So, instead take a knee and allow us to handle your upcoming relocation while you take care of other important matters such as student enrollment, staff hiring, semester planning and etc. We are highly acclaimed removal contractors and we have a positive reputation of technicians who work with utter precision, punctuality and diligence.
We care about your students
Our London school removal services are focused on the needs of the children who will be attending the institution. So, you can rest assured that our seasoned and skilled movers will go beyond their call of duty and work round the clock if necessary in order to haul all the desks, chairs,  equipment, dorm furnishings and other items before the start of the term. Our dedicated and child-friendly attitude is one of the main reasons behind our immense popularity and our immense pool of loyal customers.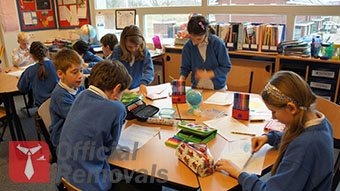 To us it doesn't matter whether we have to relocate a primary or secondary, private or public institution as we are certified to move all types of educational facilities. We use only reliable and proven packing materials because we understand in full how delicate school equipment can be. We also want to protect all the furniture from unwanted dents, marks and scratches. We turn attention to all the details that surround a school removal project in London and this is why we can confidently promise you that nothing will be left behind and that everything will be delivered to the new site in a safe and timely manner.
Best relocation prices in the city
Official Removals London works with custom based moving fees which we form by taking into consideration the one of kind specs of each school relocation job we handle in London because:
We understand that moving an education institution can be costly
We want to be an accessible company that can accommodate even the smallest budgets
We want to maintain a ratio between our services and prices which is fair but yet guarantee for the quality of our moving options
You can see how much your school move in London will cost you by giving us a telephone call or sending us an e-mail and requesting for your free and personalised quote. You should know that our quotations are non-binding and final.
Our man and van company is seated in London. According to recent studies the English capital is the most visited city in the world. It is also identified as a global financial and cultural centre which is why it is ranked as an Alpha++ city. London is home to some of the most prolific schools, colleges and university in the world. Every year, thousands of students from all over the globe come to the British capital in order to get better education and therefore open better opportunities for their future. Some of the most notable educational institution in the city are Imperial College, King's College London, the John Lyon School, City of London School, Barts and the London School of Medicine and Dentistry.