Ensuring adequate protection for valuable items during a property removal is very important. Many people would consider removal boxes to be the most suitable solution and indeed boxes are quite handy for storing and relocating many household items, but they aren't as sturdy as heavy duty removal crates. By all means our advice as a professional service provider is to use crates over boxes  when moving in London, for a safe removal of high value goods, irreplaceable personal items, antiques etc. as a solid plastic crate with fully sealable lid has enough rigidity and flexibility to provide a much higher level of protection.
Advantages of using removal crates
There are many obvious advantages of using removal crates over boxes for your home or office relocation. Furthermore the specifics of some items and goods due for removal require the use of crates as the only adequate solution.
Crate sizes
There are different size removal crates we can offer our London customers, below are listed some of the more common sizes people go for, however we have access to all size crates for hire.
LC1 Personal plastic moving crate L:321 x W:244 x H:295mm;
LC2 Medium plastic moving crate L:508 x W:335 x H:285mm;
CH3 Standard plastic moving crate L:597 x W:374 x H:330mm;
Highly convenient service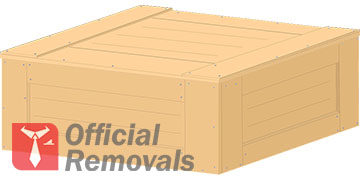 Our specialised crate hire is designed with convenience and flexibility in mind. The crate hire service is entirely streamlined. When requesting our London crate hire service let us know of the approximate (or exact, if possible) number of crates you need. Also the size of crates, if unsure what size you need seek advice from our customer consultants. Let us know if you need any additional packing materials to be delivered also. We will have the crates delivered to your home or office at a convenient time and day so that you have enough time to sort and pack items without rushing. If necessary, Official Removals' technicians can assist with labelling and listing the contents of crates as per customer instructions. Once the removal is completed and you no longer need the crates, you can call us back and we will collect the crates from you, easy as that. In case customers need to keep items packed for a certain amount of time, we can also arrange for long term crate hire.
Londoners like going to the movies, which is quite evident by the large number of cinemas in the capital. Apparently over a fifth of all cinema screens in the UK are in theatres in London. At the moment, it is estimated that there are just under eight hundred cinema screens throughout the capital.