Official Removals is a London based moving company that offers a very wide range of services that are aimed at covering the needs of our clients in the best possible way – no matter what those needs are exactly. Our piano removal London covering service is one of the classic offers that we can make to you. It is reliable, efficient and comes on a price that can be described easily with only one word – reasonable.
The London piano movers you can count on
A team of well-built movers hauling a piano across a flight of stairs is probably the most iconic pictures moving companies are associated with. We can assure you that when we do musical instruments relocations in London we manage to incorporate the best traditions of the industry into advanced modern methods that our licensed London based movers are tailoring in order to bring their services up to date. While handling your piano relocation in London, we are going to use carefully crafted methods, skills we have accumulated through year of hard work and the full resources that our company has at its disposal, which includes packing supplies, moving gear and vehicles.
Fully insured professional movers in London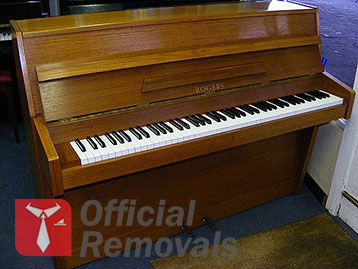 There is one thing that is certain – nothing bad is going to happen to your piano when we are taking care of its relocation in London. You can count on us to do the job right and enjoy the many perks that make use the most highly regarded moving company in the capital according to the constant positive customer reviews that we receive. Some of the benefits that come with having us by your side include:
Full moving insurance
Flexible schedule
Competitive prices
Last minute booking options
Attractive mid-week discounts
Free packing boxes delivery
Feel free to get in touch with us for further details and a free quote for your piano move in London.
Safe and sound storage solutions in key London areas
We can furthermore arrange storage for your goods in case you need to put them away for some time. Our storage facility is very well secured and easy to access. Naturally we will help with the packing and moving to storage of your goods so that you do not have to worry about a thing. There is no minimal contract period attached to the offer and you can lease a storage unit both long-term and short term with us. All you need to do is get in touch with us today for further details.
London is a large and very busy metropolis. The capital of the UK is among the top tourist destinations in the world and there is a good reason for this – located here are attractions such as The British Museum, The Greenwich Observatory, Kew Gardens and much more. London is noted for having some of the best public transport systems in Europe, which is mainly due to the Tube – the largest and oldest underground train network today.