If you are looking for a responsible company that will take away your worries about the way your office removal would be carried out, there is no need to look any further.
At our company we offer a comprehensive list of services that enables us to always deliver the highest quality of office removals in Castelnau. If you want a team of reliable, knowledgeable and skilled moving specialists who have carried out thousands of office removals in Castelnau to come to your work place, dissemble your furniture, carefully pack and load your equipment and transport everything to their newly assigned location, where it will be re-assembled and arranged according to your instructions, you will find that you cannot possibly find a better option than our company.
We are particularly glad to be able to work on namely on the territory of Castelnau. Apart from the many historical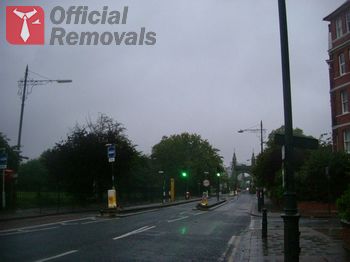 buildings and sites in the area, like the old Olympic Studios, the Harrods Furniture Depository – a landmark in the Oxford and Cambridge Boat Race – and many others, it is also one of the nicest and fasted developing living and business areas in London. It is a privilege to be at the service of local business owners and help them improve and develop their business. We see our excellent office removal services as the best way to give our fair share to the development of the whole community.
If you own a business in Castelnau and the time for you has come to move it to a different office space for whatever reason, just give us a call and we would be happy to assist you in any way we can. We are available for contact at all times and there is no problem to schedule your move outside standard working hours and even days, like in the weekend. Thus you and your employees would not have to cease work because of the removal. Call for a quote and you will see that we work not only on some of the most competitive prices in the area, but also in the whole of London.