Moving offices is a peculiar job and if you want it to be carried out properly, you should have someone with the skills and experience needed to help you. We are such people and we are always ready to take up any task you have for us and deliver a service of an exceptional quality that will take away all worries, stress and strain that usually go with big and small scale office removals.
We are the leading company providing services related to office removals in Crook Log.  We have been in the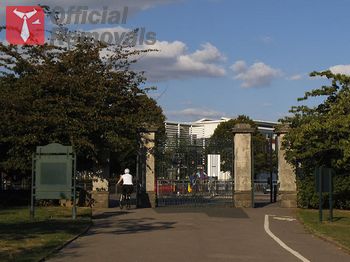 business for several years now and we have taken care of a large number of Crook Log office removals all up to one end – complete customer satisfaction. We will successfully move your business without hassle and the need to disrupt your working process because of the experience. All our employees are responsible and energetic individuals who have gone through our special training program and have extensive experience in the field of office removals. They know the industry inside out and in their professional hands your office furniture, sensitive equipment and any other item you need us to move for you will be treated with the greatest of care.
We have many happy clients
---
"When I decided to move to Crook Log, I was sceptical that I would ever be able to find a reliable removals company there given the area's remoteness and its modest popularity. Little did I know that Official Removals had teams covering that part of London. The movers knew the area well and my move went like a breeze."
Olive S. – 17 March 2017
---
"Moving home when the weather is bad is something I wish I don't have to do again. Although I was poorly prepared for the heavy rain and the thunder on my moving day, my movers were. They were right on time and they were fully equipped. I, however, was still not ready with the packing so they had to patiently wait for me."
Johnathan N.  – 15 January 2017
---
"The movers you sent me were very polite and professional in their work. They did their job thoroughly and they even managed to move and load the heavy marble table we had in the kitchen. Your people carefully handled all of my items and they thoroughly secured them in the moving van. Cheers!"
Antony F. – 4 June 2016
---
We will schedule your relocation according to your preferences and it will be finished in a timely fashion so that you and the people working for you will be able to carry on with your duties practically undisturbed. You will be satisfied, your employees will we satisfied and ultimately, your clients and business associates will be satisfied. Our prices are fair and our work ethic is impeccable. We cannot imagine a better bargain when talking about office relocations. Can you?
Contact us for reliable storage solutions in Crook Log DA6
Our storage solutions in Crook Log are fully available to our commercial clients. If you need a safe, secure nearby place to put away your furniture, office equipment or other items for long-term or short term storage near Crook Log, you can count on us. We offer assistance with collection and delivery, competitive prices and very good contract terms. Please do not hesitate to call us for further details.
Book your moving day by calling or writing to our polite and knowledgeable customer service specialists. They will provide you with a free quote upon contact and we will take care to tailor an individual plan according to which to proceed with your removal. Call on the telephone numbers provided or contact us via the online contact form set up on our official website.
Crook Log is an area of the London Borough of Bexley that is best described as the locality around Watling Street. Edward Alderton Theatre, an amateur theatre, is based in the area. One of Crook Log's most prominent former residents is actor Sir Roger Moore. The district is home to Crook Log Primary School, which is the only school here. Crook Log is located 10.9 miles to the south east of Charing Cross.