When you have decided to use professional office removal services in order to move your place of business successfully, you would need to be serviced by a reliable, attentive service provider, who can cover your moving requirements in a safe, efficient manner which cancels out the margin for error.
One place where you can find all the right removal solutions under one roof is Enfield Town Office Removals. We specialise in all types of professional grade office removal services and certain commercial relocations too, our technical expertise and industry know-how will prove to be invaluable for our customers, and save them a ton of hassles throughout the removal.
When you secure your office relocation through us, you get professional expertise and efficiency working for you. We have the technical means and manpower to expertly organise the entire office removal from start to end, and carry out all stages of the process with the right pace and efficiency, just as expected and required by our customers. Our removals are supervised by a qualified relocations expert, who will walk you through each stage of the process and explain why and how we do things.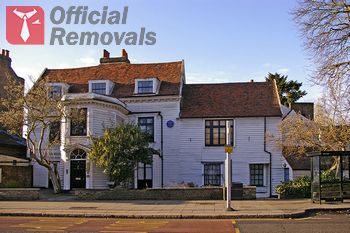 In order to ensure safe handling, damage-free transportation and timely completion of your office relocation, our teams of specially trained, professional movers will handle the packing and securing of items being moved. Efficient packing is essential for risk-free removals, and we will take every bit of care when packing expensive office equipment and machinery. We will use high quality packing and wrapping materials, which ensures better protection during transportation and swifter unloading and distribution of items at your new address. Enfield Town Office Removals aims to provide customers with comprehensive end to end servicing and ensure the entire office relocation goes according to plan and schedule. We will cancel out the margin for error and avoid any costly delays as punctuality and efficiency are essential to us just as much as they are for our customers.
We also have excellent short notice availability and are available for booking seven days a week, with no extra charge for public holidays.
Affordable and first grade storage solutions
Aside of helping you with your commercial relocation in Enfield Town, EN1, we can also solve all your storage conundrums in case your new business establishment is smaller than your previous one. We rent out storage units of various sizes, all of which are fitted with the best environmental control systems and security features. Our storehouse is open 24 hours a day so you can rest assured that you will have constant and unrestricted assets to your belongings.
The White House on Silver Street is one of the area's main landmarks. It described as one of the most beautiful edifice in northern London and was the residence of English publisher Joseph Whitaker from 1820 until his death in 1895. Today the house is used as a doctors' surgery. Enfield Town is also the location of the world's first ATM cash machine which was installed during the late 1960s at the local branch of Barclays Bank.