Moving your office to another location is usually for the better, but getting there might be a rocky road. People move their office in search of better business opportunities, which is only logical, as every business wants a place under the sun, but having to shift your workplace from A to B, might turn out to be a costly and intense exercise, which can catch owners off-guard with all the issues and considerations to account for.
There is an easy way of this though, and that is to use professional office removal services, provided by Hammersmith Office Removals. With us, you can choose from a wide range of cost effective and highly efficient office removal solutions and certain commercial relocation services, too. We have the technical capacity and industry expertise to organise, carry out and complete your office removal successfully, without any extra hassles or additional costs.
What clients said
---
"I think my furniture enjoyed a much more luxurious trip to my new house in Hammersmith than I did. Your moving vehicles look very well-maintained – both on the inside and on the outside. I enjoyed getting assistance from such a friendly and smiley team of movers. The prices were also reasonable."
Amanda D. – 16 April 2017
---
"Even though I don't have many belongings and did not have to move any furniture or home appliances, my move spanned over a full day. If I had not used your moving services, I would have been forced to take some time off from work. Good quality, fair prices and high effectiveness. Thank you for everything"
Nick K. – 26 August 2016
---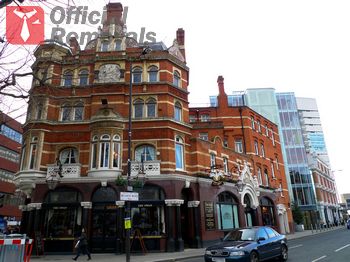 We understand how important efficient work practices and timely completion are for our customers, as every hour of business downtime translates to lost profits and unhappy customers. Because of this, Hammersmith Office Removals will carry out your office removal in such way, as to have everything completed within the shortest time possible and with minimum disruption to your daily staff duties. Obviously, this means we must be able to deal with all aspects of the removal from start to end, and that is exactly what we will do. Our diligent and well organised mover teams will visit your property at the specified time and commence work immediately in an orderly, unobtrusive manner as we need to be out there as soon as possible, and without disturbing other occupants or businesses on the premises.
In the meantime, you can take a breather and grab a cuppa, as we will deal with sorting, packing, securing and if necessary listing and labelling the contents of items being moved. Naturally, our movers will also take care of loading of items as they need to ensure efficient utilisation of available cargo space in our transport vehicles, which allows for speedy, damage-free transportation and swift unloading and easy distribution.