When moving your house or office, you need time to carefully plan and organize removal in an efficient and fast way. But sometimes you won't have three or four months to prepare for your move. Last-minute removals are common and people sometimes need to move in four weeks or less. Here is a simple guide on how to pack your belongings and prepare for a last-minute removal.
Declutter and sort your belongings
This is your unique opportunity to get rid of some items. Some people think since they don't have much time, they should just pack everything without sorting out first. This is a mistake because the more stuff you get rid of, the less you will have to pack. It will save you time and energy. You can start by creating three piles.
The first pile is items you plan to keep and belongings that are irreplaceable.
The second pile should be items you can sell or donate, items someone else can reuse.
And the third pile is items you need to toss.
If you haven't used an item over a year, you should toss it or give it away. Additionally, if you are having second thoughts about a certain item, then you shouldn't keep it.
It is packing time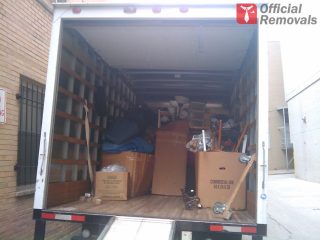 If you choose to pack without a professional help, you need to be practical. First you need to get the packing supplies. One option is to get free boxes from local liquor shops or other stores. But, if you feel like you won't have enough time to search for free boxes, you can buy them directly from a moving store. They have other moving supplies you need including tape, labels, wrappings, protective pads, and other. Additionally, some moving companies rent the moving boxes and other supplies. If this option suits your needs and budgets better, then go for it. At least, you will know what to do with boxes after your removal. After you have the supplies ready, you can start packing. Make sure you label each box and write down its contents. Be careful with fragile items. Note that some appliances will need extra time to pack and prepare for removal.
Hire a professional moving company
When you don't have much time, help is mandatory. The best option for you if you are moving last minute is hiring professional and experienced movers that can plan entire removal, or you can hire them for certain tasks. You can take care of packing and they can simple move belongings from your old place to a new one. You can choose a service that will fit your budget and your needs. Finding a trusted and experienced house and flat removal company in London shouldn't be a daunting task. However, there is also another option if you want to save money. You can ask your friends to help you with sorting, packing and other moving tasks. Perhaps some of them have a vehicle that can be perfect for your last-minute removal. Nevertheless, remember that you need help and you cannot complete your removal on your own, especially when you are on a tight schedule.
---