Company relocation can be challenging and it may cause disruption to your overall business. However, there are certain steps to take to minimize the disruption and make your removal smooth and easy.
No matter how big or small your company is, here are few steps to take in order to make it successful.
Hire a professional moving company
One of the biggest mistakes people do when moving offices is not hiring a professional and experienced moving company. One of the reasons why they choose so is that they assume they and their staff can move the office furniture and other items safely and smoothly. In order to avoid personal injuries of your employees and damage to very expensive inventory and office supplies, hire moving experts that will make sure the relocation goes quickly, safely and smoothly. But before you hire movers, make sure you check them out. You need to do a research and decide if a company is reputable before you opt for it.
Move only items you will need
When relocating your company, use this unique opportunity to get rid of items you will not use or need. Perhaps some items won't have its purpose at new office or you have replaced them with new ones. Sell what can be sold and throw away items that are no longer usable. Remember, the more stuff you move, the more expensive the office removal will be.
Insurance on your possessions
It is highly recommended to insure your valuable office items when moving your company. This way you will be safe in case some items get damaged or lost. Make sure you know exactly what kind of coverage they offer and what kind of insurance you need. Think about whether you want to insure your possessions during the entire move or only during a transit.
Time management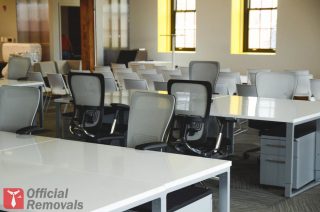 When moving, people usually think that they have enough time to take care of all moving tasks. But, things never go according to plans so you have to be ready for unexpected situations and problems, especially when moving a company. And all these problems are time-consuming. So, instead of waiting until the last moment, make sure you move all stuff before the actual move-out date.
Do not move during holidays or bad weather
Moving during holidays might seem to you like a great idea. Your employees are having their time off, and it might minimize business disruptions. Even though this sounds tempting, it is a bad idea. It will take you as twice as much of time to move during holidays, due to traffic jams, but moving companies usually charge more when moving during holidays. And when it comes to moving during bad weather, this is not something you can actually control. But when planning your company removal, make sure you do it during the summer, if possible.
Expect the unexpected
After you hire a moving company, you may think that all your troubles are gone. But, you can never predict the future and know what might go down. Therefore, it is recommended that you prepare to experience some difficulties so you have an opportunity to face them and solve them. Therefore, participate in every step of your removal. You need to know what is going on with your possessions at all times.
---