If you let us be your company's office removal contractor, you will see that relocating a business is not necessary stressful, time consuming and causing losses of various degrees to your business.
We pride ourselves with being the most reliable company operating in the field of office removals in Covent Garden. If your office there, no matter how small or how big it is, needs to be moved anywhere in the district, do not hesitate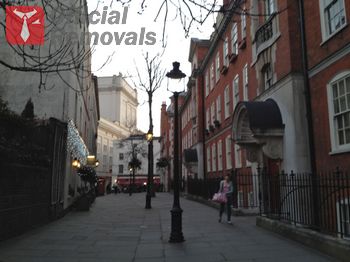 to contact us. Covent Garden office removals are made easy by our services that have proven to be efficient, affordable and helpful to a wide range of commercial clients in the area. Chances are that you will not be able to find a better, more experienced and adequately equipped company to take care of moving your business to a new location. Save yourself the time, the energy and the money and leave everything in our experienced hands. Our specialists will pack, load and transport your office's items quickly and safely. After we have assembled and arranged everything for you – of course not before we have discussed with you how exactly you want this to be done – you and your employees will be able immediately able to resume your work. No discomfort, no interruptions, with our company's excellent office removal service, you will be left with only the positive sites of having a new place for your office. Our vans and trucks are fit for jobs of any size, so no matter how large or how small your moving project is, we will readily take it up and carry it out in a professional and efficient way.
Work with the best movers in Covent Garden, WC2
The logistics and execution of your office removal in Covent Garden, WC2, will be handled by our skilled, experienced and accomplished man and van specialists. We have a strict employment policy which we follow to the letter as a company is only as good as its workers. Our packers, carriers and drivers will give a 110% effort to accommodate all your demands and make sure that your relocation goes in full accord with the highest standards of the moving industry.
Do not hesitate to contact us at any time you need help with your office removal. Our customer service specialist will discuss all the details of your project with you and they will tailor an individual plan for your move that will best fit all your needs and requirements. Our phone lines are open every day, and at every hour you can write us an e-mail or a message in the online contact box and receive a swift, polite and informative answer.
We have based our man and van company in the district of Covent Garden, WC2, in the central parts of London. Located in both the Borough of Camden and the City of Westminster, it is one of the capital's most popular and visited districts. The Royal Opera House is one of the area's most prominent buildings and landmarks. It is identified as a Grade I structure and presently has a maximum capacity of 2.256 seats.