If you are in the midst of planning and organising your office removal, but the sheer scale of the task is making you dizzy, then perhaps you need to find a cost effective, efficient solution to your predicament and ensure everything is completed according to plan and schedule. The writing is on the wall really – the only way to ensure your office removal plans are carried out timely and efficiently is to use specialised office removal services.
No one can better to provide you with the right type of service at the right price than Office Removals Hayes – the local office relocation specialists. We know what top quality office removals are all about and will be able to provide customers with affordable, attentive removal solutions, able to cover general and specific requirements, without leaving their budget in tatters.
No matter how basic or elaborate your moving requirements, we will devise and implement the right service format as per your specific needs and budget limitations. We try and keep an individualised service approach toward each customer, as there are no two office relocations alike, and each time there are new challenges and issues to get through. This would be no problem for us though, as we like challenges and will exceed customer expectations through punctual and highly efficient work practices and lots of professional dedication. Depending on the scale and complexity of your office removal requirements, we might suggest conducting a preliminary job viewing with one of our qualified logistics experts who will walk you through each stage of the removal process, and provide you with technical advice on all aspects concerning your relocation.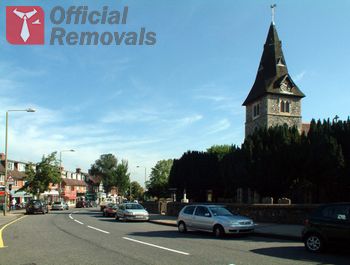 If you have any additional concerns or requirements to do with the removal, please be sure to discuss those with our relocation specialist, as they also happen to be the person that will supervise the removal and ensure everything is carried out according to plan and schedule. In order to cancel out the margin for error and eradicate the risk of damage or misplacement of items and equipment, Office Removals Hayes works with specially trained and qualified professional movers.
Safe and sound storage solutions in Hayes, Bromley
We will arrange for comprehensive, safe and reliable storage in Hayes for your goods. We will help you move your items to storage in a secured facility. Our units vary in size and come with no minimal contract period attached. We will look after your goods for as long as your office removal requires it. Check out our competitive prices for long and short-term lease of storage units in Hayes.
Located in the BR2 postal district of Bromley, Hayes is a suburban development which is situated on the premises of an ancient village that dates back at least to the end of the 12th century. The current population of Hayes is estimated to be 7078. Old Hayes is the location of a major shopping area here. Hayes is home to the Hayes Cricket Club, Norman Park Athletics Track and Hayes Philharmonic Choir.