Having someone to pack your items when moving home is something we can all appreciate. Using professional packing services is one of the smartest things you can do when relocating because certified packers are:
Skilled and trained
Experienced
Fully equipped
Fast and efficient
So why isn't everyone letting the pros to pack their belongings and furniture? The answer is quite obvious – quality packing services cost money. Given that organising a house or even an office move is quite expensive even without the use of qualified packing assistance, imagine how much you will need to pay if you choose to use extras like this one. Nevertheless, sometimes it is best if you call your local removals company and ask them to send you a team of qualified packers.
When you are planning a big move
Full property removals are complex and they can take a lot of time to complete even if you have booked competent movers. The bigger the home or the office you are moving out of, the more items you will need to move and pack. When you have so many things to do, you can get sloppy which may result in sloppily packed personal possessions and furniture pieces. Therefore, if you do not want to risk having your belongings damaged, you should opt for a professional packing solution.
When you are too busy
Working late every day or taking care of a newborn? If there is something that is keeping you occupied for the greater part of the day, let the packing experts step in and give you a hand. Packing the kitchen alone can often take hours or days if you don't have the proper skills and equipment. Use your time wisely and leave that task to someone more experienced.
When you have a lot of valuable or fragile items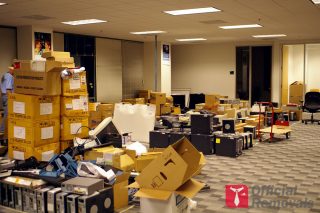 Do you own a collection of expensive paintings or many stemmed glasses? If yes, know that wrapping such items in newspapers will not be enough to protect them during their moving and transportation. But even if you get specialised packing supplies like bubble wrap, Styrofoam peanuts and packing paper, you will still have to use certain packing methods with which only a trained expert will be familiar. Can you see where we are going with that? That's right – contact the pros!
When you want to make your move safer
Unfortunately, accidents and slip-ups can happen during any moving process. When your possessions are packed by vetted specialists, the risk of having your items scratched, for instance, is slimmer but it still there. The good news is that if your belongings have been prepared for removal by licensed professionals, the insurance company will hold them responsible for the accident and not you. Since moving companies work with insured experts, the situation will be less stressful than the usual. In such a scenario, the insurance firm will be more likely to pay up to the maximum and it will deal directly with the removal business you have hired.
---