Official Removals is among the most rapidly developing removal businesses in Central London. With a strong customer base and an impressive presence on the local removal market, we have successfully established ourselves as a responsible and dependable home and office removal company. Our business clients, in particular, will be happy to learn that our pleasant team of movers and packers have the all the necessary skills to quickly and effectively perform commercial removals of various kinds. We are also relying on clean and up-to-date removal equipment, moving gear and packing materials, because we want to offer nothing but the best services in Central London. Our impressive fleet of vans and trucks features professional moving vehicles like:
LWBs
SWBs
MWBs
Luton vans
Special rubbish lorries
To make the transportation of your office items and furniture pieces secure and fast, we have installed GPS navigation in each of our moving vans.
Central London removals that address your unique needs
Although we specialize in offering business removal projects in Central London, we know that not all removal projects in this area the same. Every customer has specific needs and vision on how a moving job should be done. In addition, office removals come in all sizes. The good news is that we are capable of handling a removal project's unique requirement by offering unique removal solutions. Unlike the pricing of many other removal companies, our prices are not set in stone. We can offer custom quotes to our clients in the WC and EC postal areas that will conform to the project's specifications. This means that you will not have to pay more than what is needed. Also, you can take advantage of our free instant quotes if you prefer. To make matters even better, we have a great discount that is available for removals booked for any day between Monday and Thursday.
Overseas business removals in Central London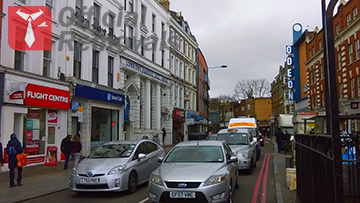 Local removal services are not the only thing we provide. Our trained professionals also do international commercial removals. While other removal firms that operate in Central London will charge you quite a bit for such a premium service, we keep our pricing within reasonable levels. Also, we pack your belongings, saving you're a great deal of time and energy. Of course, we offer various insurance options for customers who want to use our overseas removal services. The most in-demand of them feature goods in transit coverage and removals insurance, both of which are quite affordable. Our friendly support team is always willing to give you a hand by explaining you in detail the entire international removal process. The company's skilled experts will also offer you many tips that can make your business removal easy and unproblematic.
To book our professionals, simply call our support team. We maintain a 24/7 client support services to make things even easier for you.
Best office moving in Central London
On spot, high quality office removals in any part of Central London
We firmly believe that every office removal is unique which is precisely why we are ready to make the extra effort to customise the plan for your Central London relocation so that it fits your needs and personal requirements well. Do not hesitate to get in touch with our licensed movers and helpers and tell them what you need, so that they can make the necessary preparations.
Since it lies in the core of London, Central London easily ranks among the most expensive residential and business areas in the UK capital. However, this part of London indeed offers a rich variety of leisure opportunities for both locals and tourists that include anything from large and famous shopping facilities and museums to an amazing entertainment environment. Covent Garden, one of London's most artsy spots, is certainly a must-see with its Royal Opera House and its great number of classy restaurants. With so many beautiful attractions, it is almost impossible to imagine that namely Covent Garden was among the largest slums in London once upon a time. Culture and history also enjoy a spot under the limelight in East London with the British Museum being the most prominent attraction in this category.
On top of everything else, Central London is the busiest commercial area not only in England, but in the world. The annual turnover of the City alone is more than any other place on the planet. There is hardly a big international company that is not represented in some way or another in Central London. Tourism accounts for a big portion of the business here as well, due to the high concentration of attractions.