There is hardly any doubt that Official Removals is among the leading removal firms in East London. There are many ways in which we excel over our competition. As a start, we have long years of experience in removal projects not only in this area, but also in many other parts of London. Our company is properly licensed, while our friendly staff is insured and well-qualified. Over the years, we have also managed to greatly expand our portfolio of removals services in East London. As a result, our customers are now free to choose from an impressive selection of extra services that include:
End of tenancy cleaning
Junk clearance
Overseas removal solutions
Removals of valuable items and antiques
Insurance for removals
To make things even easier for you, the prices of these services are incredibly reasonable. Don't worry, the quality of our removal solutions is always top notch.
Secure business removal solutions in East London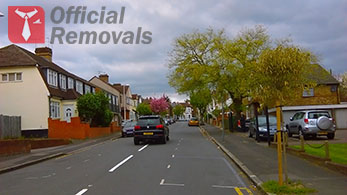 Unlike most domestic removals, office removal projects usually include the transportation of expensive professional equipment, confidential documentation and various other items that are valuable for one reason or another. That is why many of our business customers in East London are always interested in knowing how we can make their removal extra secure. What we can offer to meet these particular client requirements is:
Secure storage space in East London which can be rented at a cheap price
Modern moving trucks that can offer risk-free and quick transportation of any items or equipment you wish to be relocated
Packing services that will further contribute to the safe and accident-free transit of your possessions
Experienced and helpful staff that can be trusted even with move complex commercial removals
Safe waste removal services that can help you get rid of various substances, including gasses, liquids and solids, in no time
Affordable school removal services in East London
You may be surprised to learn that we also offer affordable school removal services. Therefore, we are ready to help any school, college or university in East London to quickly relocate to their new building. What is more, our seasoned removal professionals will even do smaller school-related removals, like relocating a classroom, for instance. Here's why we are perfect for this job:
We are a fully insured removal business that has all the necessary licenses to operate in all E postal areas.
We are well-equipped to collect and deliver furniture and expensive school equipment like computers and classroom projectors.
You can get moderately priced insurance for items in transit.
Our friendly staff will take into account your specific removal needs and will create a custom quote to meet them.
To learn more about the removal services we provide in East London, as well as to get detailed information on our pricing, contact our polite team. Our experts can also give you great moving tips and answer all of your removal-related questions.
Reliable business removal services in East London
Top grade East London commercial relocations
When it comes to covering the requirements of your East London removals we take no chances. Quite the contrary, we are ready to go an extra mile in order to guarantee your comfort and peace of mind. The best sign that we are doing our job right is that we receive nothing less than only outstanding customer reviews about the quality of the office removal services in East London that we deliver to our clients.
East London includes most of eastern Greater London, as well as the Essex hamlet of Sewardstone. To the south of this part of London lie the banks of River Thames, while the frontage of River Roding can be seen to the east. One of the newest, yet most interesting facilities in East London is Queen Elizabeth Olympic Park, which was constructed specially for the 2012 Summer Olympics and Paralympics. Apart from being a sport complex, the park is also serving important environmental purposes in London. In fact, it has found a place among Western Europe's biggest eco-friendly parks. Stratford, one of the most popular recreational and shopping districts in the UK capital, is also situated in East London although it originally started out a highly agricultural area in the 17th and 18th centuries.
In recent years East London has distinguished itself as one of the fastest developing areas of the capital in a commercial sense. This is primarily due to Canary Wharf, a district in the borough of Tower Hamlets, which after a period of extensive redevelopment became the second commercial heart of London after the City. Other vibrant areas in East London include the districts of Dagenham, Hackney, Chingford and Goodmayes, among many others.